Its all true, the boogie girl is real, and you've found her. She knits, sews, spins, does pottery and writes it all down in this blog.
Wednesday, September 20, 2006
No Rules Here
I said that I wanted to get that shawl done. Not really a specific one, just one of the four I'm working on would suffice. See, I'm not picky. Just get a shawl done.
Yesterday I decided that I wanted to get the Cottonease Cardigan done. I couldn't decide whether I wanted the shawl or the cardigan done more. All I know is, that I picked up the cardigan instead of a shawl.
I soon got bored with the cardigan and remembered why it was set aside. I'm using a "Knitting Pure and Simple" Pattern, which I'm following, except for working between the sizes for the right fit. When working with a pattern that I want to follow I tend to read it and do what it says. I'm a good girl and I can take instruction. I have hours and hours to go on the body, but all this stockinette is boring me.
Then I remembered there are no rules.
I tied up the body and the skein of yarn I was working with and picked up the sleeve stitches.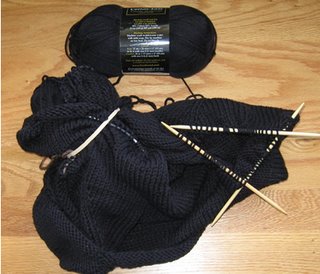 I know it looks like a pile of screwed up knitting but it works. I snapped that picture yesterday when the sun was out. Since then I've got all the decreases done on that sleeve. Maybe today after work I'll get back to the miles of stockinette on that body.