Its all true, the boogie girl is real, and you've found her. She knits, sews, spins, does pottery and writes it all down in this blog.
Thursday, September 07, 2006
Lace
It's all about the lace now.
Many people living in blogtown seem to think of lace in spring. So maybe I'm a little late. Or maybe I'm just that far ahead of spring 2007. Actually, I have so much on my plate that saying I'm thinking of spring 2007 might be more accurate.
I know I showed the one lace thing last week but I've got 4 that I'm working on the patterns for and another one that is still cooking in my head.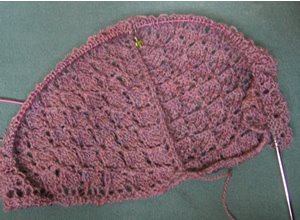 This one keeps changing. I figure at some point once it's knit and I'm no longer willing to tink or frog, then that's the design it will be. This is unusal for me. I normally write the pattern then knit and that's that. The image in my scattered little head keeps changing for this one.
If I could actually keep with knitting just that one, my internal picture of it might be clearer and I'd have it all set in stone. But no, I have to keep casting on for others. Like this scarf:
Yeah, I know it's a scarf and I hardly ever finish them. But it's a lacy scarf and I've done a few of those. I like lacy scarfs. It's also pink and it's being done. with Alpaca Wool. I think it might get done. This is probably going to end up being one of those carry with me type of projects. You know, the ones that worked on 15 minutes at a time until complete. I love those.
Next up is this:
I think I have the pattern completely worked out for this one. I think....
Thank you for all that voted in the poll already. Didn't notice that? I posted it late yesterday, scroll. I've had one name in my head, only I thought I was crazy. Well, now I know from those that voted yesterday that the name is either great or you all are as freaky nuts as I am.
Actually I'm partial to 2 of the names and all of you are making great arguments for your choices. The choice still is going to be a tough one. I swear I didn't even think of what spunk meant in Europe when I first named the business that. Here, it doesn't mean that at all.
So if you didn't vote and you want me to know that you voted then vote and email me. You don't need to tell me your vote in the email. You can keep that secret, I just want an email to add your name to the pot for a prize.