Its all true, the boogie girl is real, and you've found her. She knits, sews, spins, does pottery and writes it all down in this blog.
Tuesday, September 26, 2006
Knitting?
What is this knitting that you speak of?
Race?
You say there is a race?
Monday at lunch I finished the collar around my black sweater, picked up the sleeve stitches and there it has sat.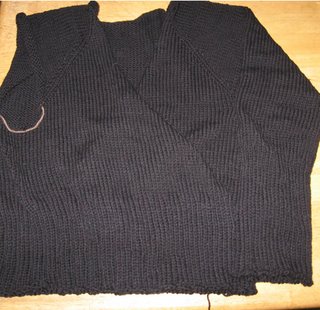 It doesn't look any different? Well, no. In a bout of laziness, I copied the same picture I used on Monday.
Did I ever explain the term "dumbitious"?
It's a phrase that I believe was coined by
Pink Hair Cyn
.
Someone will correct me if I'm wrong, please
Anyway, it's a combination of dumb and ambitious. As in, so overly ambitious that it really is dumb. Dumbitious.
Folks, I live my life dumbitiously.
I'm supposed to do an update of the shop today and also finish shipping out the club stuff. All the while doing homeschool, making the regular shipments, entertaining a cute baby and trying to attain sanity. Notice I said "trying to attain sanity", I have no delusions where my sanity is concerned. Sanity packed it's bags and left this house long ago.
Sometime later today I'll be updating the shop and then collapsing in my chair blowing spit bubbles and babbling. At least the girls will understand me.