Its all true, the boogie girl is real, and you've found her. She knits, sews, spins, does pottery and writes it all down in this blog.
Friday, September 01, 2006
Friday Mish Mosh
So much is going on.
I'm flitting from one project to another. This is what happens without deadlines. I do what I want and I seem to want to do a little of everything.
A while back I finished my August Club. In fact I've finished the sample for September already but you can't see September yet. You do get to finally see my version of "Cool Rain" in South African Fine. I know the photo shows pink and there really isn't any in this roving. That's what happens when you take pictures during a pink sunrise.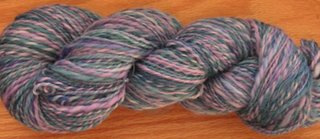 The current spinning is for a little Beast sweater. ok, so she's not that little.
This sweater is really little. Oh, the stripey cuteness. I am close to the finish line on this one. Lets see if I can finish it before something else catches my eye.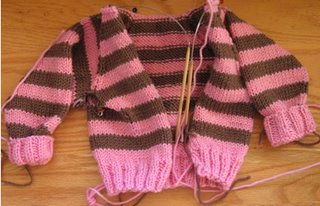 I've been working on designing a shawl for a while now. I wanted something different than whats out there and I finally figure out what different was to me. Out came the graph paper. I've got the yarn ready to go and the pattern has been charted with good notes. Not that anyone else would understand my scratchings, but I think I can do a shawl from this.