Its all true, the boogie girl is real, and you've found her. She knits, sews, spins, does pottery and writes it all down in this blog.
Monday, September 25, 2006
Eating Monday
This one is easy. I mean, really really easy. It's one of those "one pan meals". It's fast and it's a million times better than those bagged or boxed meals from the grocery.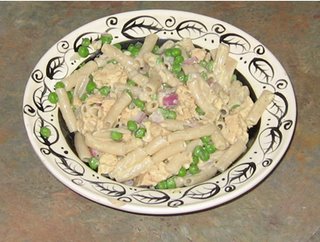 --8 ounces (dry) Brown Rice Pasta *(gluten free) or whole wheat pasta (white is ok too)
--1 cup frozen or fresh peas
--1 can of Salmon or 1 breast of chicken shredded or TVP (moistened) or Tempeh (steamed and crumbled)**
--1/4 cup Nasoya Nayonaise with Dijon or 1/4cup Regular Mayo mixed with 1 tsp Dijon Mustard
--2-3 Tbs of minced onion
3-4 servings
*Brown Rice Pasta is really good. The only thing you have to do is make sure that you don't over cook it or it will get slimy.
**Fresh Salmon or chicken is good for the meat eaters (it doesn't have to be canned. Canned just means you can have this in the pantry waiting until you need it and make fresher meals at other times) - I don't recommend making this with tofu. Tofu doesn't have the right texture or flavor to pull it off.
Cook the pasta, in the last minutes of cooking, dump in the peas. Drain when the pasta is done and the peas are cooked. In the same pot, put in the rest of the ingredients. Stir up and it's ready to serve. I think it takes less than 15 minutes to throw this together. With all it's simplicity it still has a grain, a protein, and a vegetable. I usually use this as a lunch dish. It's as good warm as it is cold. So it makes a great picnic/camping dish.
FINISHED PROJECT!!
I finished that black sweater over the weekend.
woohoo!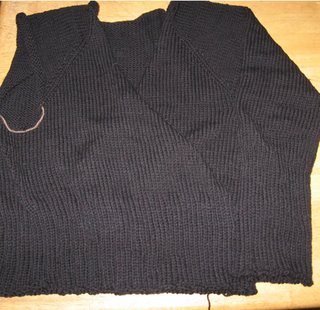 What? That doesn't look finished? Ok, I fess up. I didn't finish it. I just really wanted to light a fire under
Marta
. For all I know, Marta finished hers over the weekend and I'm the one needing some fire.
You see Marta thought she'd challenge me to a little race to the finish on our black sweaters. Seeing how I can't seem to say no, I accepted. I think she knew this. As of the last email I had, she had the body pieces done and was working on sleeves. Yesterday I finished what you see up there, the body and one sleeve.
Last night it was just too much for the eyes to continue working on the black, let alone picking up neck stitches or sleeve stitches. I know, it's a race. I had to stop for a water and a banana. I couldn't keep on running with the black or my eyes would be crossed this morning. My banana and water: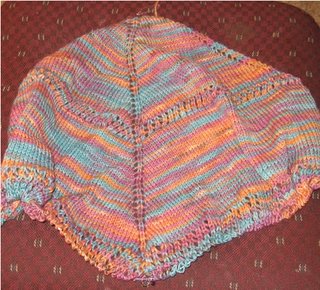 I can't wait to see if
Marta
stopped for a banana or if her sweater is done.
ALL THE EMAILS ARE GONE!
If you sent me an email in the last week and didn't receive a response...
I downloaded a program to help with adware and general junk on the net. It deleted all my emails in the Inbox thinking it was all bad. I didn't realize it would affect emails and I've now purged it from the system. Still, those emails are gone. I know there were questions and requests. If you know I'm Spunky Eclectic and you haven't received a response, please email me again.