Its all true, the boogie girl is real, and you've found her. She knits, sews, spins, does pottery and writes it all down in this blog.
Wednesday, August 23, 2006
Oh my Booties!
I am fairly obsessed with booties.
I made several pair a little while ago from the 50 booties book. Monday I was doing a little blog reading while I was waiting for some info to download and I ran across
Big Sister
. Well, not really ran across. I read when I can. Big Sister was my secret pal the last time I did one of those things. She was a darn good pal too.
She had made some really cool felt booties and linked to the pattern. I liked it so much, I just had to immediately make them. Everyone is pregnant (seriously folks, if you don't want to be pregnant, double check your contraception method) so I could be making booties constantly. I just might be too, I love these!
For Amber's Baby (I hope she doesn't read this):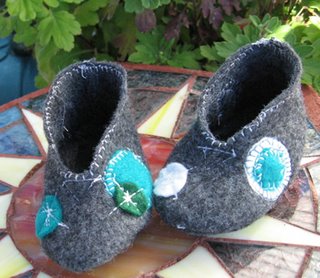 For My Baby Boogie:
Do you want to make some?
Go
HERE
I'm glad you all like the Totoro pattern, but it's not mine. You're begging the wrong person for the pattern.
Adrian
is the genius behind that one. My test knit is almost done....