Its all true, the boogie girl is real, and you've found her. She knits, sews, spins, does pottery and writes it all down in this blog.
Monday, August 14, 2006
Monday Cleanup
Most ofyou are picky about who your guests are and how much you're cleaning for them. I am worried about those of you that aren't sure what a guest is. Or is that you don't know what cleaning is? Alright, just teasing.
I have done the pinesol thing that one of you admitted to. I was tired and not motivated. But really the dogs take cleaning as a personal attack. They seem to have a real problem when I make the hosue smell less like a dog. Even when I do a thorough cleaning, you can't tell.
Anj and Sue. I swear I cleaned for you guys though. Well, I made the kid do a good bunch of the floor cleaning. Child labor is a beautiful thing. But I admit that I only do a surface cleaning. And anyone that's ever been here knows that that's my house. If you don't want to see dust, don't go looking for it. I guarantee that behind the couch, the entertainment center and the bookcases are all dusty. Actually there might be a few visible places that are dusty too. If it's out of my reach...
I think the fiber storage areas are cleaner than the house. Well, I spend more time there.
This week the poll is a little different. You can check more than one box.
Instead of casting on something new the other day, I finished a baby sweater.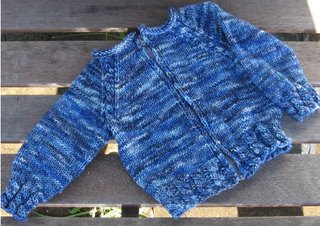 This is Timmy's Cardigan. The pattern is for a boy and a girl version. I have a freind working on testing the girl version and once it's done it will be available on the website. My stats:
Zippered Baby Cardi
Yarn: 2 skeins of sport weight handpaint
Needles: US 4
Other than that, things have been crazy and hectic here. I've been cataloging the pottery that is left. I have friends that are snapping up what they want. Soon I'll have lists of it available if anyone is interested. The pottery liquidation doesn't include anything sheepy.
I will continue to produce sheep items. Once my kiln is up and working again. I think need to replace some parts and do some rebuilding since it's not working properly.