Its all true, the boogie girl is real, and you've found her. She knits, sews, spins, does pottery and writes it all down in this blog.
Monday, August 07, 2006
Monday Cleanup
The last poll was about freezer defrosting. I'm lucky enough for my kitchen fridge/freezer combo to be one of those really nice self defrosting jobs. I also have a chest freezer that is not a self defroster. This is where I got the idea for the question.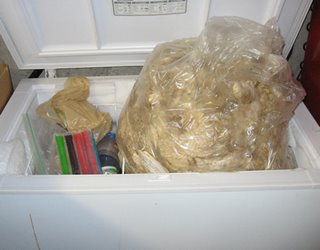 Wools that come into this house are frozen before the make their way into stash or business use. I may be a little paranoid but it makes me feel better. Of course it's a little upsetting to the husbeast when he goes to the freezer for a pizza sees more wool than food. I realized the other day, as I was trying to cram 2 fleeces into the chest freezer, that I needed to defrost.
I suppose you could say that I only think of defrosting when my pint of ice cream, or sheep fleeces, don't fit into it.
This week's question:
Of course this question has to do with the fact that I had 2 fabulous house guests last week. Thank you guys for making me take some vacation time. I miss you already.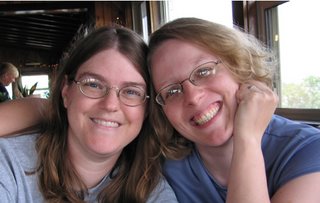 Over the past week:
--I received my Henry's Attic order. Yes, I now carry Henry's Attic. Email me if you want something.
--I finished a Hat and mitten set, and a pair of cabled socks. Neither of which you can see at the moment.
--I started a sweater and worked on my handspun socks. Of which I'll have to get photos soon.
--I went through my processed fleeces. Washing a couple and carding others.
I'll be making posts about all of them later this week. Right now it's my first day back to work after a week and I need to haul butt to get some shipments out. Not to mention that school starts today. In case you were wondering, yes, I am a glutton for punishment.