Its all true, the boogie girl is real, and you've found her. She knits, sews, spins, does pottery and writes it all down in this blog.
Wednesday, August 30, 2006
Hack and Slash
Thank you for the title Monica!
Anj made me a perfect and wonderful sweater. Then I ran into these naughty buttons. The buttons are temptresses. They've made me slice and dice a wonderful sweater just for them. I didn't have a choice. If you ever run into pushy buttons, run, they will take over your knits.
I give you the rest of the post in pictures:
Steek steek: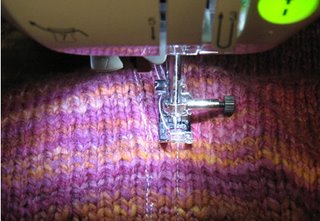 Some people find it easier to mark the center where they plan to cut by running a piece of contrasting string up through the stitching. Not me. Balls out. I sew 2 lines on either side of the center stitches.
Cut cut: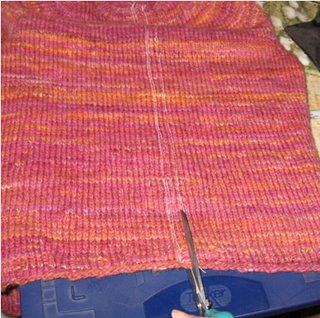 There we go!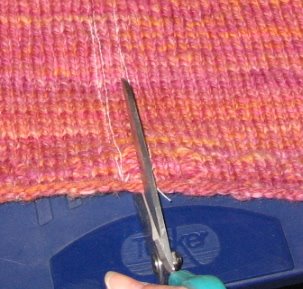 And it's cut apart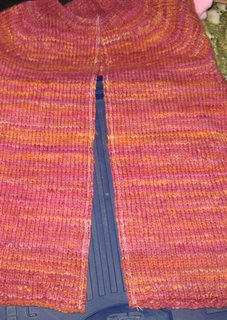 Picking up the stitches after the sewn part, it automatically turns the sewn edge under when you pick up and knit.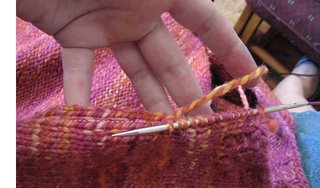 One edge is done: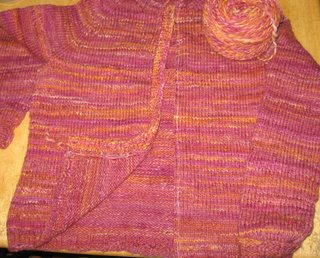 Did you notice the lovely stitchery.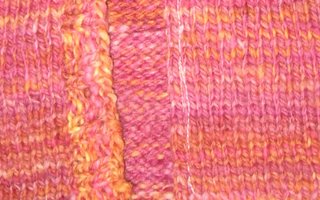 And it's all done:
Sort of.
Some ding dong has a problem counting. She counted 6 buttons and made 7 buttons holes. Somewhere, there is another button for the top of the sweater. Or I'll pretend it's meant to be that way. Who's going to notice anyway?
I'm having some pretty big computer/server problems. If 2 pictures of everything shows up, that will be a miracle and I'll be very happy. It will also mean that I won't be tossing my computer through any windows.