Its all true, the boogie girl is real, and you've found her. She knits, sews, spins, does pottery and writes it all down in this blog.
Sunday, July 02, 2006
Saturday Sky
Yes yes yes, I know it's Sunday
Again.
I can't seem to do this one on time.
But it's a good thing I waited a bit.
This was Friday's sky
Yes, that would be more storm clouds moving in.
And Saturday evening: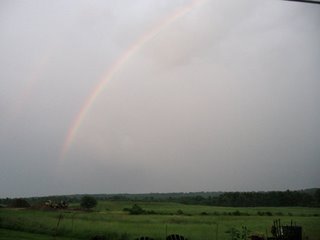 A faint little rainbow.
We've had lots of grey sky but the rainbow makes up for some of it.