Its all true, the boogie girl is real, and you've found her. She knits, sews, spins, does pottery and writes it all down in this blog.
Wednesday, July 12, 2006
Chasing Children
I'm updating the shop today but I have some children to chase first.
You see, my Mom helps out at my cousin's wife's daycare. We're pretty close with them. I grew up with him and he was always like an older brother to me. My cousin and his wife have 3 awesome kids, 2 of which are same age as mine. J got pregnant right after I did, both times. This last time was a pretty big surprise to both of us. I have made a solemn promise to them that I won't get pregnant again.
To cut this down from being a long story, since Mom isn't here, I'm helping out. Mom and Gram will be flying in later tonight but in the meantime J needs help. I think there are 10-13 kids at the daycare and it's usually a fun time, even if it's tiring. I just need to cover time until J's Mom is able to work.
This all means that the update will be between 3 and 4 pm EST. Can you believe it took me that long just to say that?
In the meantime...
Let's talk about knitting!
Angora. Oh Angora.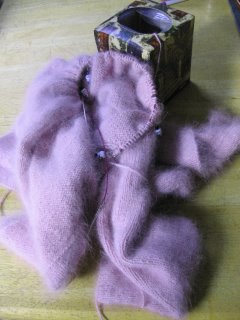 This sweater is almost done. I've been taking my time with this one. Well, that and my time to knit has been after 9pm lately. It's the last project I have in the series. I thought I was going to have more but I never received the yarn so this one has lasted until the deadline. It's a gorgeous yarn and a really nice knit. I expect it will be finished in the next day or two.
Did you notice the tissue box? I haven't been crying my eyes out nor have I had an allergy attack. It's holding my rolling ball of angora. These balls aren't skeins and I didn't want to roll them all into center pull balls so thanks to a tip on
Knitter's Review
, the balls get put into a tissue box. No rolling all over the place.
Remember how I freed up some needles? Of course I had to cast right back on.
This is the mountain silk blend I showed off a little while ago. One ply of a blend with nylon and silk noils. The second ply is of a semi solid yarn. I'm loving these and I've only just started.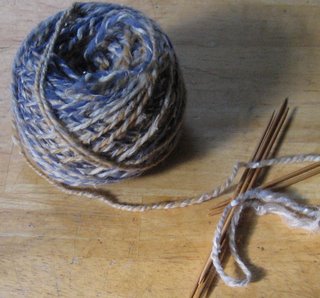 This yarn is a blend set of one ply of wool, hemp, nylon, and silk noils. The other ply is my Nova Scotia wool. I have a sister set that will go up for sale later. I love this yarn. It's amazing and I think these will be fabulous socks for Dad. He noted that he has 2 pair. Absolutely not enough for a Maine winter. I'm going to see how many I can get done for him before winter hits.
This is not a knitting project. This is a baby at meal times. Cute isn't she? I finally got the hint that she isn't fond of peas. Either that or she is convinced that it makes a good facial, it's good for the hair and well, we all like pea green clothing.