Its all true, the boogie girl is real, and you've found her. She knits, sews, spins, does pottery and writes it all down in this blog.
Wednesday, June 07, 2006
Moving on up
This winter I'll be moving.
I didn't want to make a big deal out of it, but it is a big move. Big even though it's not far. Something like 200 yards. My business will be moving into a bigger and better space. Oh yeah, no more basement and keeping everything in boxes and containers. I'll have shelves and displays!
I'll actually be in a space where I can have people stop in and try out the wheels, test the spindles, play with looms, fondle the yarns, touch the fibers and sit with me to knit or spin.
That's right.
I'm going to be moving into an actual retail location.
My Mom has decided that her shop would be better served for something else since it's closed up all but one day of the week. She's going to take over my pottery shop for her retail space and I'm moving into her large retail space.
First and foremost I need to clear out some of the pottery. None of the sheep pottery will be cleared out, I don't have much of that in stock anyway. But I'm talking all the other patterns and they'll be cheap. I'll set up a page soon to clear all that out. I'm not giving up pottery entirely. I just have stock that I need to moveout and make space. I'm over stocked at the moment.
We're shooting for a February opening but I'm secretly hoping that I can get it done all before that. Here's a
progress page
. Yeah, there is a ton to do. I work best with short deadlines and piles of work. Or so you'd think by the way life is.
Other than work stuff (the Frolic is this weekend) I've been spin spin spinning. You can click both photos to make them bigger although I'm not sure it will help. In typical Boogie fashion, I waited to take photos this morning. Never mind that yesterday we had sun and today we have clouds and showers.
I test the club offerings before I make the final decision. This is the last one: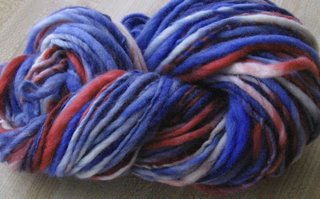 I thought it sounded like an odd combo when my mind gave it up, but once I spun it up, I knew I loved it. I hope everyone else does too.
I know many people have a hate for silk noil. In certain applications it can be nice. I wanted to make a yarn that I'd be happy to use that had noils. This is a 2 ply dk weight yarn. It is thick and thin but that's ok, it's going to be socks. For one ply I carded up 2 ounces of wool with nylon and silk noil. The other ply is Salvia from my almost solids.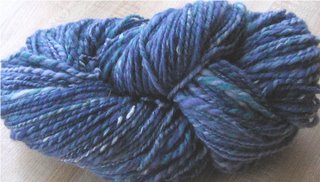 I like the resulting yarn. Now I want to try and add more silk noils. I htink there could have been a lot more in there. Actually I have a ton of blends in mind. I'm not sure if I'll bring them to the Frolic to work on but right now I want to drop everything and go play with my carder.