Its all true, the boogie girl is real, and you've found her. She knits, sews, spins, does pottery and writes it all down in this blog.
Monday, June 19, 2006
Monday Clean up
Do I clean the top of my fridge? I used to believe in the notion; "If you cover every inch of it then there is nothing to clean". But the junkiness started to get to me and now I need to clean it.
You might remember that husbeast is 6 foot 8 inches. I try to get him to remind me when it looks bad because there is no way I can see it. Unfortunately the way he got laundry duty was suggesting I could do a better job folding and be more prompt. He rarely ever mentions anything needs to be cleaned now.
So I suppose while I try to forget that it's there I try to clean it when I think of it.
For this weeks poll it was something that several people mentioned to me last week.
While we're on the subject of cleaning.....
As I read blogs last week I kept seeing a trend. It was a crappy week. Maybe not giant life altering crap, but just enough to make someone want to hide out until Sunday at 12:01am.
I had one of those crappy weeks along with you. If looking at the whole it was an ok week. But there were several little crappy things that made it hard to see the positive and when it all piled up, that
bottle
case of wine looked good.
I forgot at some point that the week didn't end on Friday night. I forgot that I had to still make it through Saturday. I forgot until Saturday's little mishap hit. I took the kids to go look at frogs in my parents frog pond. Seems harmless. Harmless until you step onto quicksand.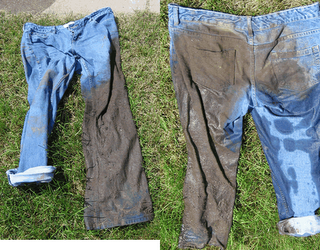 The shock/panic of it got the first leg out fast and the second leg firmly planted up to my thigh. I was mud up to my shoulders trying to dig my way out of the shifting and moving sand and getting a rock stuck on my leg so big that I couldn't move it. I think the whole incident was 15-20 minutes long but it felt like hours. In case you wondered, the Girlbeast continued to throw rocks into the pond and run around like a crazy child completely oblivious to me.
I spent the rest of the day hiding out and knitting. Angora will make it better...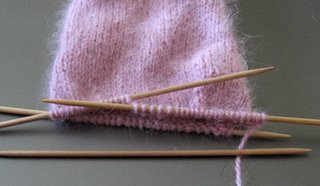 All the while very aware that the pointy sticks could possibly cause me harm.