Its all true, the boogie girl is real, and you've found her. She knits, sews, spins, does pottery and writes it all down in this blog.
Friday, June 16, 2006
But wait...
There's more....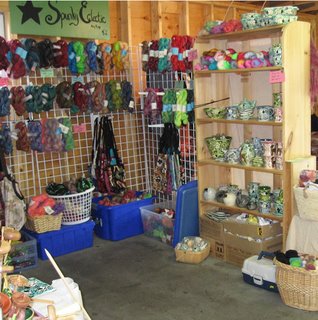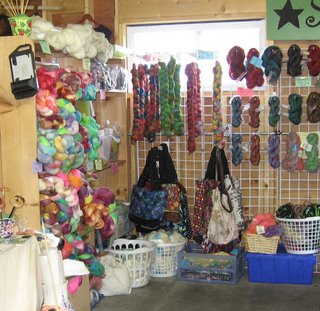 If you click on the pictures they get bigger. I wish I had gotten a better picture of some of Adrian's yarns. Especially that handspun. Oh my, she's a master. If you have some of it, then you already know.
Our booth was so alluring that a neighbor HAD to have some of our stuff. We walked in on Sunday to seeing her spinning up a bunch of our fibers. She paid of course and asked if we minded. I love it when the fiber is too much to resist. Must. Have. More. Fiber.
In fact it was too much for me too.
Adrian
and I did a little swap.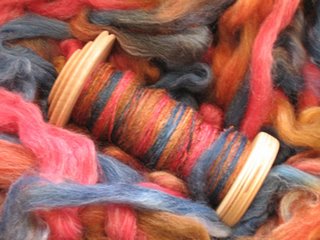 I'm spinning it as a striping sport weight single. I think this would knit nicely into a lacy multi-directional scarf. This stuff is Merino silk and it's so very nice.
I did get one other thing at the Frolic.
Dan
had a Kromski harp (32 inch size of course) that he didn't want anymore. So he brought it in for me to buy. How sweet is that? Tuesday I did my first warp by myself and set it up. I figured I'd just use some scrap acrylic and play until the yarn I ordered arrived.
Once the safety orange acrylic hit that loom, GirlBeast couldn't resist it. It was like some siren call to her. She hovered and pestered until I had it all set to go. By the time it was all loaded, I wanted nothing more to do with this stuff.
There she is in all her glory, fully enjoying the weaving of safety orange and hot nasty pink. Such a retina searing combination. Perfect for a scarf for her, if she finishes it before I cut it off so I can work on something less eye damaging.