Its all true, the boogie girl is real, and you've found her. She knits, sews, spins, does pottery and writes it all down in this blog.
Wednesday, June 21, 2006
Baby Socks
BabyBoogie has a few pairs of socks but she can take them all off in seconds flat. 5,4,3,2,1 - socks are off. I had to make a pair to see if I could do any better. The socks are finished and the ends are woven in.
They're on and quick as lighting hands are trying to remove them.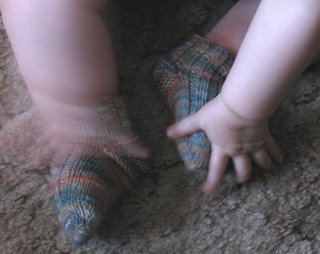 Hmph. That didn't work. Wiggle the toes...
Ok, so the socks are on. Attack the sock maker!
Spunky Superwash Merino Sock yarn
80-100 yards
US2 Needles
Pattern: Boogie - free pattern coming soon. I promise.