Its all true, the boogie girl is real, and you've found her. She knits, sews, spins, does pottery and writes it all down in this blog.
Monday, May 15, 2006
NHSW was wonderful
I read the weather report that there were supposed to be showers for the Saturday of MDSW.
Lies.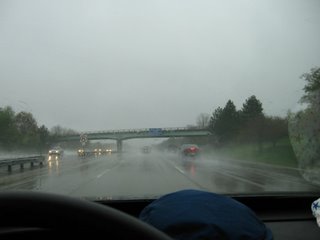 That is not a shower. It's a freakin' downpour. This was the drive down, and the drive back. Amazingly, it was the least blurry of all my pictures. Let me say that it didn't change while we were there.
I also read that the fairgrounds are mostly sand so the ground is still easy to walk on even in the rain.
Lies all lies I tell you.
I kept forgetting to drag out the camera, and when I did, the pictures were awful. If you want to see how well the fairgrounds drain go see
Cabin Cove
. He got some good pictures of the puddles that were over my ankles on the edges. I probably would have been swallowed whole if I had walked through the middle. I'm not very tall you know.
My eldest tagged along thinking of previous fun festivals we had been to. Standing in the sun watching the sheep and dogs. Petting the animals and having a good romp in the grass.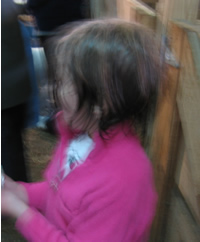 I think she was so miserable I felt it radiating off of her. She was a really good girl the whole day. I think I'm going to treat her to a new raincoat that fits. Luckily
Pippi
has a brain (where mine had walked off) and she brought extra clothes that my girly borrowed.
So what's up with the title of my post?
I got to meet
Pippi
It made my day to meet her and her beautiful family. Really, if it hadn't been for getting to meet her in the flesh after being online friends for so long, I would have turned around and ran home while I was still dry.
You're all calling me a wuss and I don't care.
As I looked through my photos, I didn't get a single decent one of her and her family. Backs of heads and blurry faces. Well, and then there is this one unflattering shot as we're heading back under cover but I won't post that one.
It was still nice to see many faces that we knew and a few new ones. I saw Jen of
Spirit Trail Fiberworks
and her gorgeous
Booth
Babes
. I also saw Norma, (which I always seem to want to add an 'l' to the end of her name for some reason.) and I finally got to meet Sandy.
I had taken a snapshot of Norma all bundled up and looking quite warm and stylish when she mentioned Sandy. Not Sandy of
Sandyknits
. Yes, that Sandy. Ooooh. I need to meet that Sandy. Of which the pictures once again are blurry and unflattering.
But did I mention how awesome it was to finally meet
Pippikneesocks
and her family. I'm hoping we get to find time to get together more often.
AS if this post wasn't long enough. I'm later that everyone else in making one of these (what's new?)....
Take My Quiz
. It's all fun and games people.