Its all true, the boogie girl is real, and you've found her. She knits, sews, spins, does pottery and writes it all down in this blog.
Tuesday, April 18, 2006
yarny yarny yarn
First of all I need mention the newest project on the needles. I'm not doing any other socks other than those for Dad so I'm staying true to my promise, for the time being. But I had to cast on for a
pinwheel blanket
. I've seen
Adrian
make 2 of these and finally I've succumbed.
I have to make one.
Let me inform you that you probably need to make one too. There is something so simplisitic yet fun about going around and around, increasing every other row. Yes, this happens to be how I find excitement in my life.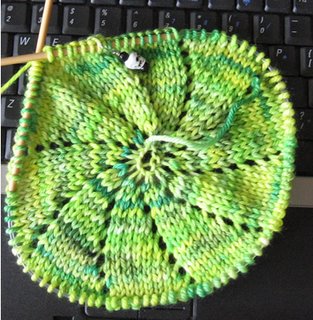 If I hadn't been in such a hurry to take a photo before a big wet black nose got in the way, I might have noticed that tail sticking up.
Need more convincing?
Go take a look at the
Knitalong
or the
Flickr photos
. My original idea is to make this for a baby but seeing how it's in my color of green I might end up keeping it for me.
Right, Dad's socks.....
And one final little announcement for those not on my notify list... I'm now starting a yarn/fiber of the month club.
Check it out
if you think you might be interested. But hurry because April(green) will be closed soon and then you'll have to wait until May(blue).