Its all true, the boogie girl is real, and you've found her. She knits, sews, spins, does pottery and writes it all down in this blog.
Wednesday, April 12, 2006
How to design knit items....
GirlBeast seems to have figured out at least the "look" of a designer and that's what is really important. Right?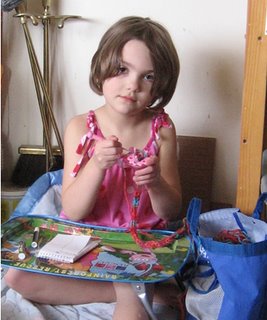 Of course she's working with a corker and one color of yarn so there is nothing she needs to make so many notes on, but she seems to think so. She set herself up in a corner with her tray, her knitting bag, and notation items.
I wonder if her notes are any clearer than the scribbles I write myself?
Speaking of scribbling...
I've been scribbling about this little number:
That would be the baby sweater from handpainted sport weight yarn. I think it's going to take around 2 skeins, or the same as a pair of socks. Which that's what I'm doing today. Getting ready for tomorrow's shop update and more specificially getting the new sport sock yarns labeled and ready.